If you have ever needed to move or ship a fragile item, you probably used bubble wrap to ensure it arrived unscathed. This common packing material is loved for its unique structure—flat on one side with small, air-filled bubbles on the other, resulting in an insulating and cushioning material that protects goods during transit.
Bubble Wrap has an interesting origin story. Engineers invented this material in 1957, intending it as a new form of wallpaper. When that idea didn't take off, they considered marketing it as greenhouse insulation. However, in the late 1960s, IBM recognized the true potential of bubble wrap and started shipping its computers in this protective packaging material.
Today, the bubble wrap you know and love is indispensable for packing, shipping, and storing fragile items. Its wide availability, affordability, and versatility make bubble wrap a staple in homes, businesses, and storage facilities. If you need a refresher on how to pack with bubble wrap, you've come to the right place.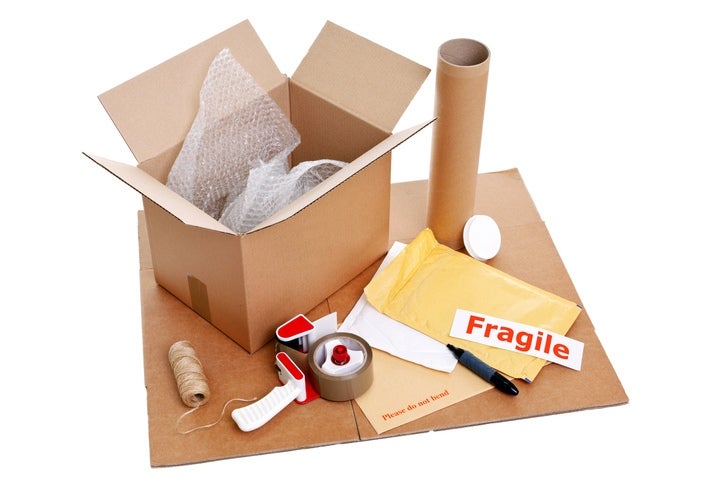 When to Use Bubble Wrap
Bubble wrap is ideal for protecting items prone to breakage, scratching, or damage, including:
Plates and bowls: China and ceramics can easily chip or crack. Wrapping each piece individually prevents such damage.
Glasses and stemware: These delicate items benefit from a cushioning wrap to protect their fragile rims, bases, and stems.
Vases: Whether made from ceramic, porcelain, or glass, bubble wrap protects vases from impacts.
Electronics: Laptops, televisions, cell phones, and other gadgets often require extra protection to prevent damage during transport.
Glass shelves and tabletops: These thin, delicate surfaces scratch easily. Bubble wrap provides a protective barrier.
Mirrors, paintings, and picture frames: To prevent these items from cracking, protect them with bubble wrap while moving.
Furniture: Cover vulnerable protruding parts and glass elements with bubble wrap.
Other fragile items: From collectibles to home decorations, any valuable or delicate belonging can be safely packed using bubble wrap.
Sizes of Bubble Wrap
Bubble wrap comes in different sizes, which impacts the level of protection it provides:
1/16-inch bubble wrap is perfect for small, lightweight items like jewelry or tabletop figurines. The small bubbles offer just enough cushion without adding bulk.
1/8-inch bubble wrap is intended for slightly larger but still relatively lightweight items, offering a balance of protection and compactness.
3/16-inch bubble wrap is the most common bubble wrap size. Its versatility makes it good for small to medium-sized items needing a bit more cushioning.
5/16-inch bubble wrap is designed to cover medium-to-large items and protect against drops.
1/2-inch bubble wrap is the largest size available, ideal for covering hefty items and filling voids inside boxes.
Estimating Your Bubble Wrap Needs
When preparing for a move or packing items for storage, it's important to gauge the amount of bubble wrap you'll need. Consider the number and size of items you're packing, and remember that it's always better to have too much than not enough. In general, a 10-meter roll of bubble wrap should be enough to pack up one room.
How to Use Bubble Wrap for Packing
Here are some useful tips for packing different breakables correctly:
How to pack dishes with bubble wrap: Start from one corner of a 5/16-inch bubble wrap sheet and cover each plate or bowl diagonally, overlapping the edges and tucking them in. Secure with tape.
How to pack glasses with bubble wrap: Cover each piece individually in 1/8- or 3/16-inch bubble wrap, ensuring the wrap extends into the glass's opening and completely covers the stem. Secure with tape.
How to pack flat-screen TVs with bubble wrap: Cover the entire surface with 5/16- or 1/2-inch bubble wrap, paying close attention to the corners, which are particularly vulnerable. Secure with tape.
Additional Bubble Wrap Tips
Keep these tricks in mind to get the most out of your bubble wrap:
Wrap items individually to ensure ample cushioning between each breakable and the box.
Double-wrap especially fragile or valuable items.
For maximum cushioning effect, wrap your items with the bubbles facing inward.
Cover sharp edges or protrusions with cardboard protectors in addition to bubble wrap.
Secure the bubble wrap with high-quality packing tape to prevent it from coming undone during transit or storage.
Don't rely solely on bubble wrap to protect your items. Before sealing each box, fill the void with additional materials like packing peanuts, crumpled newspaper, or 1/2-inch bubble wrap to prevent shifting.
The Importance of Quality Storage
Clearly, bubble wrap is an invaluable tool for protecting your items during a move or while in storage. Of course, the effectiveness of your packing job also depends on the quality of your storage unit. JD Mini Storage in Capitola, CA, provides clean, dry, secure units to help safeguard your belongings. Contact us today at 831-440-7325 for storage unit availability, pricing, and answers to any questions you have.