The first step to making sure your furniture is well-preserved while in storage is to select a reputable storage rental company near Capitola. It should have clean, leak-free storage units, as water damage can be disastrous for furniture. After you rent the right size of storage space for your furniture, lay some thick plastic sheeting on the floor of the unit, and then start loading up the moving truck.
Clean and repair the furniture.
Slide each piece away from the wall, and wipe it down thoroughly. There could be mildew in areas where you don't often clean, and one moldy piece of furniture in a storage rental will contaminate the rest of it. If any of your furniture needs repairs, this is a good time to take care of it.
Take your furniture apart.
There's no point in throwing out your back and testing the goodwill of your friends by trying to move a huge credenza as is. Instead, take off everything that can be removed. Slide out drawers and take out shelves. On some pieces, you might even be able to remove doors and legs. Disassembling your furniture lightens the load, and it might be easier to grip while moving it. Be sure to label each disassembled piece so you can put it back together again later. You can use adhesive labels for this. Put nuts, bolts, and screws into a plastic bag, and tape the bag to the furniture. Use a separate bag for each piece of furniture.
Protect your furniture in transit.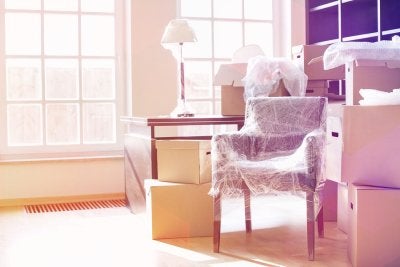 It's inevitable that furniture will shift around inside a moving van. Wrap each item with padding, such as blankets. Do not stack furniture inside the moving van—if it topples over, it will sustain damage, and it will likely damage other pieces of furniture.
Load the storage unit.
When you arrive at your self-storage unit, position the largest, heaviest pieces of furniture toward the back. As you bring pieces in, try to leave space for one or two walking paths. This way, you'll be able to access the items in the back of the unit if you've stored lighter boxes of possessions on top of the furniture.